ROSAT has been launched with a McDonald Douglas Delta-II rocket from Cape Canaveral (Florida, USA) on June 1, 1990 at 17:48 local time and inserted directly into a circular Earth orbit with an altitude of approximately 360 miles (580 km).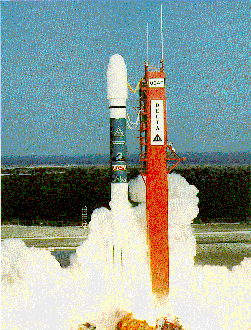 ROSAT Launch Vehicle Delta-II
Essential parameters of the ROSAT nominal orbit are given in the following table:
Orbit Parameters

| | |
| --- | --- |
| launch | 1990/6/1, 17:48 local |
| altitude | 580 km |
| inclination | 53° |
| eccentricity | < 0.1% |
| orbit period | 96.2 minutes |
| precession | 66 days |
| ground station contacts | 6 × 8 min/day |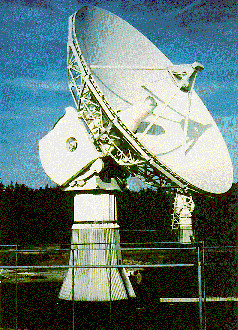 DLR/GSOC 15 m Ground Station
During all operational phases the mission control is performed by the German Space Operation Center (GSOC) of the German Aerospace Establishment (DLR) in Oberpfaffenhofen, Germany. After separation from the second stage of the rocket the telecommunication link has been established between the ROSAT S-band antenna and the 15 m ground station of DLR/GSOC at Weilheim.
All mission operations related functions such as data processing and display, spacecraft instruments performance analysis, orbit and altitude determination and control, command generation etc. is conducted from the ROSAT mission control centre at GSOC.
Control Centre (DLR/GSOC)
All scientific data is routed to the Science Data Center at Max-Planck-Institute for Extraterrestrical Physiscs (MPE) in Garching for analysis.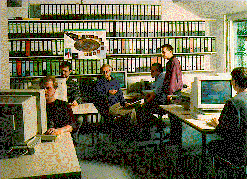 Science Data Centre (MPE)
Since GSOC is the only ground station involved ground contacts are very short (6 to 8 minutes) and occur only in the course of six consecutive orbits per day. As a consequence extensive on-board data storage and a highly automatic ROSAT operation is required.